At BulldozAIR, we are passionate about making your work easier. This is why, we constantly work hard to continue offering you the best tools possible to make you optimize your time to its maximum. This week's update offers a whole new way to locate your notes from the Web App and improve the supervision of your sites.
Geolocate your notes from your computer
Before, the Web App allowed you to place your notes on a specific location on a plan but at BulldozAIR we are always willing to go beyond. This is why we decided to include this feature already available in Android and iOS, and make it possible from the Web App as well. This is why today, on top of placing your notes on plans, you can also locate them on a map and know exactly where in the world they are situated. You can even use the filter option with this feature, so only relevant information shows up and you don't waste any time navigating through hundreds of other pins.
To geolocate a note simply go over to the upper-left corner of your note's thumbnail and click on the pin icon, a map will appear. Click on the location where you wish to place your note and the select "OK" to finalize. You can visualize all your geolocated notes on the pin icon located on the far right of the white bar where the button "+New note" is located.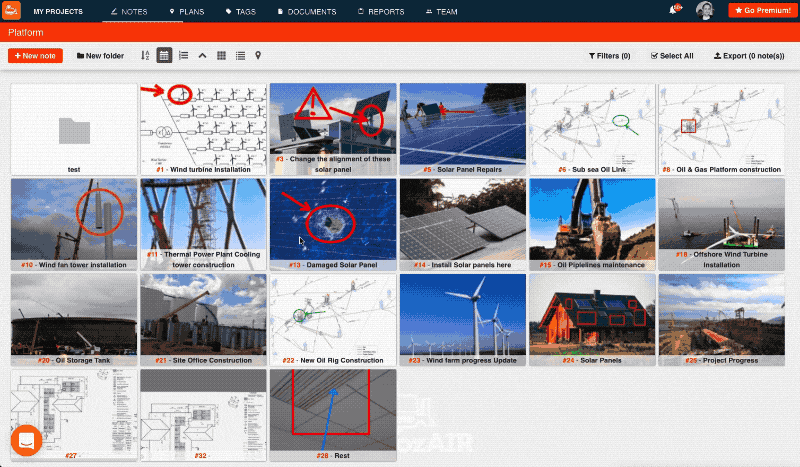 We are very happy to announce the addition of this new feature on our Web App and we hope you give it a try as well, you won't regret it! Like always, we appreciate all feedback regarding BulldozAIR, so do not shy away from telling us what you think. Your valuable feedback allows BulldozAIR to continue improving and create a better user experience for everyone.
If you still have not tried BulldozAIR, just click here to enjoy a 30-day free trial.