BulldozAIR continues to improve! Our team of developers has been working really hard to develop new features in our project management app in order to empower users on their day-to-day activities and help them lessen their workload.
We wanted to help our most avid users do their work seamlessly and effortlessly so, today we are presenting you our latest progress: a new way to sort and organize your notes from the WebApp. This new feature enables you to select different ways to organize and visualize your tasks therefore, transforming BulldozAIR into a tool that adapts to your needs and helps you manage and follow your projects effectively.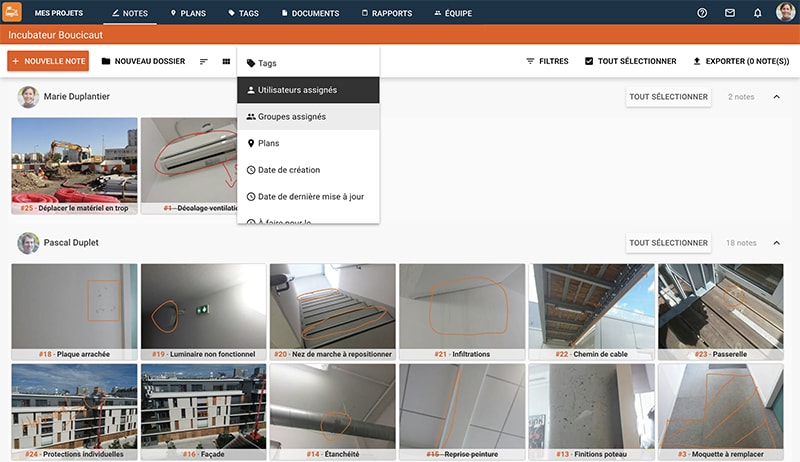 Use this new feature to:
Do exhaustive control plans by overseeing specific processes from your sites: The new organization of notes allows you to perform Control Plans with ease. Simply group notes by themes or categories to review entries such as measurements, quality checks and inspections of outdoor joinery installations, elaboration of balconies, reception of wall frames, among many others.
Quickly spot expired deadlines: Use the new organization to quickly display unfinished tasks by dates and discover any delayed tasks thus, avoiding potential delays in your project later on.
Plan your workweek and better manage your time: Sort and filter all your tasks for the following weeks to develop a detailed to-do list, improve your time management and boost your productivity.
Excel at your weekly or biweekly meetings with your subcontractors: Sort the notes to reveal tasks done in the past few weeks and easily present the current state of your site. Moreover, you can also group tasks by collaborators, teams or business partners to organize their upcoming tasks and manage their work more effectively.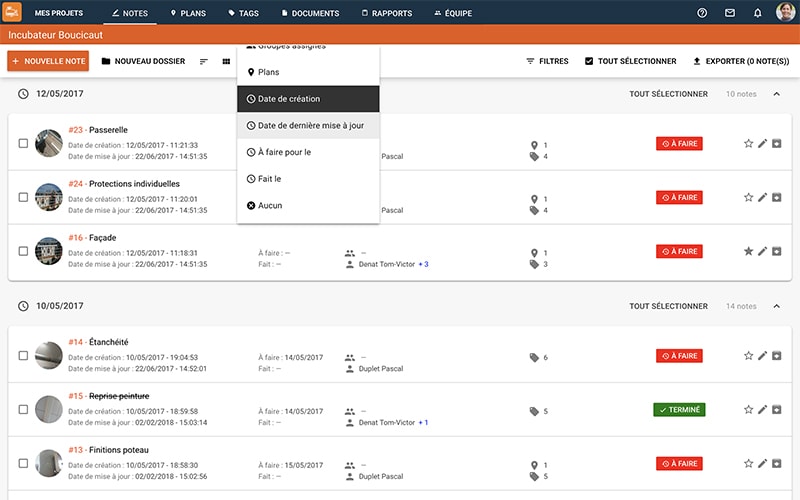 The user-friendly design of the new organization of notes allows you to view your tasks in the easiest and most intuitive way. It enables you to quickly rearrange your tasks chronologically, geographically and by collaborator therefore, saving you time and improving your productivity.
To use this new cool feature, simply enter the project containing the notes you wish to sort. Then click on the group icon placed on the white toolbar and select your desired sorting category among Tags, Assigned users, Assigned groups, Zones, Date created, Date last updated, Date due and Date done. To undo the group sorting simply select the option "None" after clicking on the group icon. You can also use this new feature in conjunction with the filter option to only display the tasks that you consider relevant at the moment. To learn how to use the filter option, click here.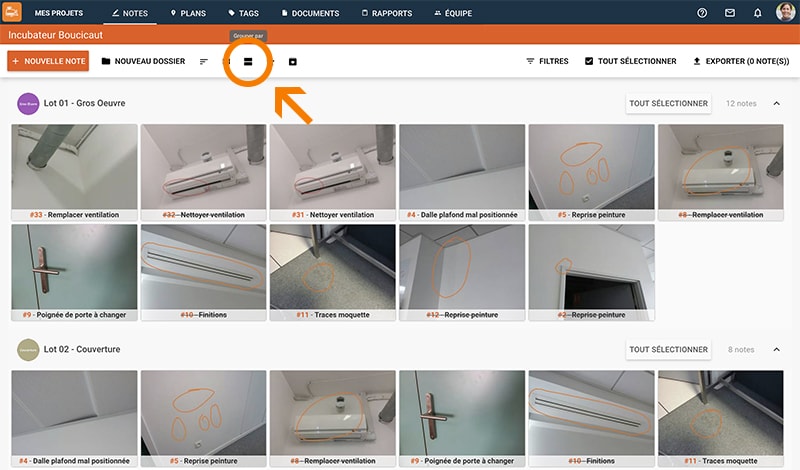 As always, we will continue to work towards providing our users with the best experience possible. However, this would not be possible without your valuable input. For this reason, don't hesitate to let us know here what you think about this new feature or communicate any other opinion regarding BulldozAIR. And if you still haven't experienced our great solution for construction teams on the field, you can always benefit from a 30-day free trial here.