There are many things affecting productivity in construction. Fatigue, constant mobilization of employees, inconsistent work schedules and lack of supervision can create delays and hinder a project.
This is the reason why at BulldozAIR we are continuously working hard to solve these issues and bring you the best solution possible for managing your projects smoothly and on-time. Today we are proud to announce three much-awaited new features in our Android and Web platforms to help you conduct your project in the most dynamic and productive approach ever!
Fast and efficient with forms
Writing long notes and descriptions without proper guidance can result in lacking or unclear data. To improve this situation and ease work for our users, we have implemented the new feature of forms, a new way for you to input vital information in an organized and straightforward manner.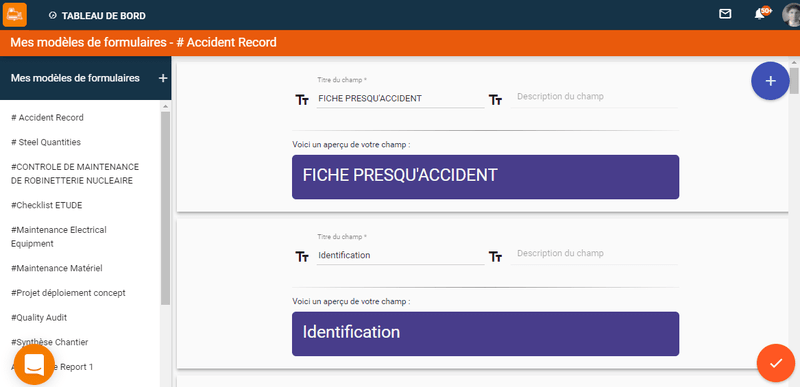 You can create your form template via the template builder in the top right corner of the WebApp. There are no limits, simply create as many templates as you need and add them to your notes. The templates will guide users with the entry of data in a note, allowing them to show concise but vital information of the project. Whether its single-answer lists, multiple-choice lists, number fields among others, the forms will let you save time and gather just the right information to avoid clutter. Adding forms to your notes is as simple as adding photos or dates. Just select the forms icon and choose the form you would like to use, fill it with the necessary information and click "OK".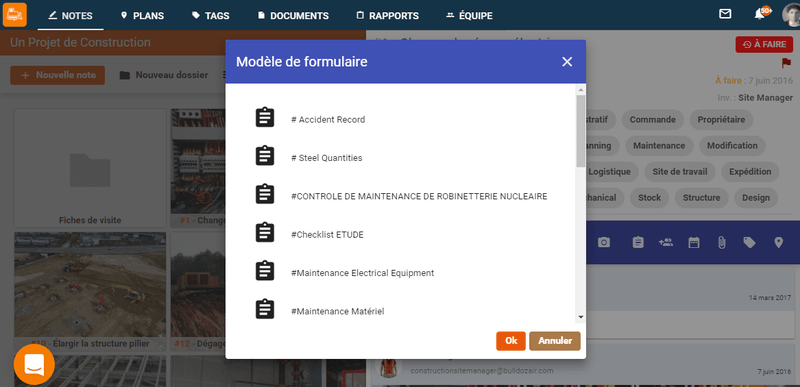 Nevertheless, fast and concise data input are not the only benefits of this great new feature. Data entered through forms will also allow you to export this information in CSV files, thus rendering the further processing of the data more efficiently.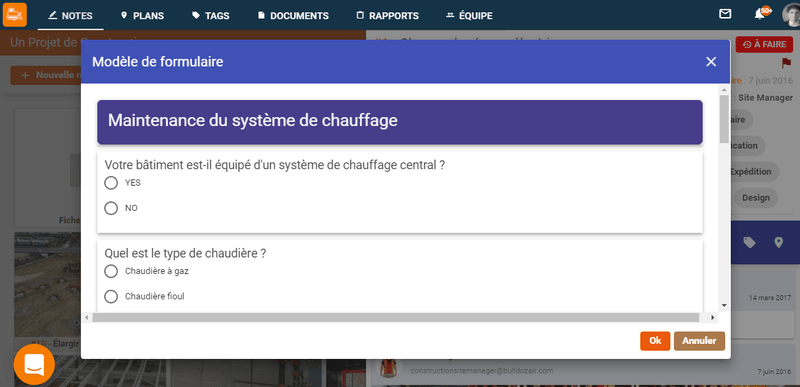 One-click access with the Dashboard
To continue making everything simpler for you, BulldozAIR has also implemented the dashboard. This new tool will help you access your projects' highlights in only a glance as it displays a summary of the progress of your notes classified by plans, tags, users, and groups in one place. This new capability will help you follow a project more thoroughly as well as enhance your project management skills by offering precise data that will aid you in spotting problems and improve your decision making. You can even filter and reorder your dashboard to focus only your most important project, granting you fast access to the right information at any time.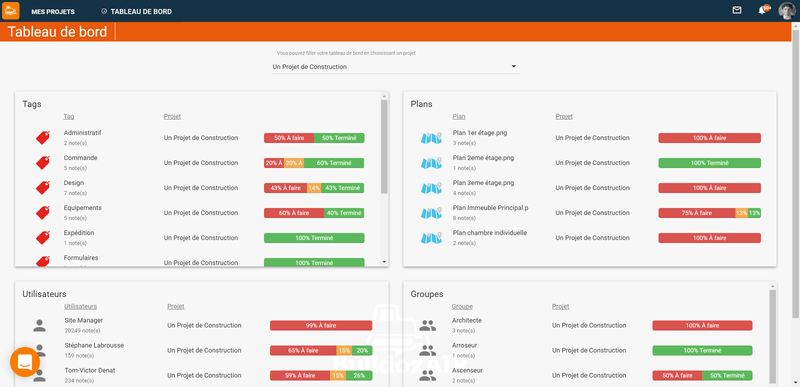 To access this new tool, just select "DASHBOARD" next to "MY PROJECTS" on the blue bar on top to access your information in a timely matter with only one click.
Two new features for your documents
Last but not least, we have added new possibilities to interact with your plans and documents. These new user-requested features will help you lessen your workload as well as allowing you to better organize your documents by offering more flexibility when interacting with your data.
Rotate your plans

We heard our users and developed one of the most requested features at BulldozAIR. Now, you can rotate your plans 90 degrees by just clicking on the rotate icon in the top of your plan's thumbnail until you obtain the direction you were looking for. No need to use any other software to edit your plans beforehand, just add your plans and rotate it to the desired direction if necessary and start placing your project's notes!

Permanently delete plans or documents

With the constant use of BulldozAIR, plans and documents can quickly increase and lead to clutter. To avoid this, we have now implemented the option to permanently delete the documents or plans that you added by accident or do not have any use for anymore. Just click on the red trashcan icon on top of your plan or document's thumbnail to delete it, then select "DELETE" to complete the process. Thanks to this new option, your files in BulldozAIR can stay relevant and organize wherever you go.
We are very proud to present you these new features. We are always looking for new ways to improve your experience with BulldozAIR, and your feedback is valuable to us, so do not hesitate to tell us any opinions or concerns you may have regarding this new update or any other matter regarding BulldozAIR. You can reach us through our contact page here. If you still have not tried BulldozAIR, just click here to enjoy a 30-day free trial.