The updates cannot seem to stop here at BulldozAIR! We are back with yet another great update of our Web App to improve your experience at BulldozAIR and minimize your workload as much as possible.
We are always open to listen to our users' feedback. This is why, we have worked really hard to develop these amazing user-requested features and finally, we have integrated all of them into our solution. Now, you can do much more without spending any more time at work.
Quicker access to your notes
Navigating through large numbers of notes can end up being time-consuming and we knew there had to be a better way. We set our hearts into developing the best possible solution for this problem and we are happy to show you the results.
Now, you can have faster access to your note's timeline just by clicking it, and you can do much more than just getting a peek. The new note's visualization mode, technically called a drawer, will also allow you to do other quick actions such as adding new images, locations, tags and much more. Now, you can make rapid modifications to your notes without stopping visualizing the rest of them and the best part is that you can access the previews from the note's thumbnail view, list view and even from the map!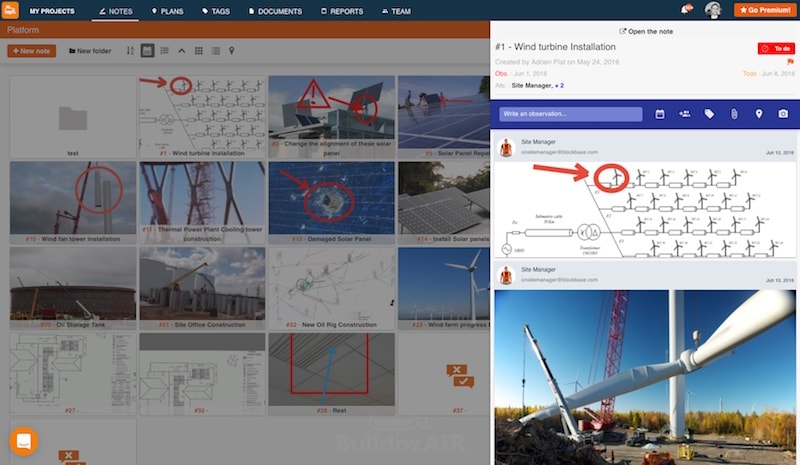 Move multiple notes and documents at once
Since its creation, BulldozAIR has kept continuously growing with more and more projects being created every day. This meant our users were dealing with continuously growing quantities of information thus, time spent on data organization also kept increasing. We decided to help them out and today, we are glad to announce a simpler file management process where you can easily move as many notes, plans or documents in BulldozAIR as you want, in a more time-efficient and intuitive manner.
Just select all the notes, plans or documents you want to move, click on "Move" on the bottom of the screen and select the arrow next to the folder you want to move your files to. As simple as that, just select and move!

Drag & drop files and folders
The title says it all. Now you can simply drag your files or even complete folders, with more sub-folders, and drop them in your plans or documents in BulldozAIR. All of these documents will be then, uploaded to your project while maintaining their original organization structure.
This new amazing feature will allow you to considerably cut down the time spent moving and organizing your files within the app. Currently, you can simply drag and drop pre-organized folders and optimize your time at its maximum.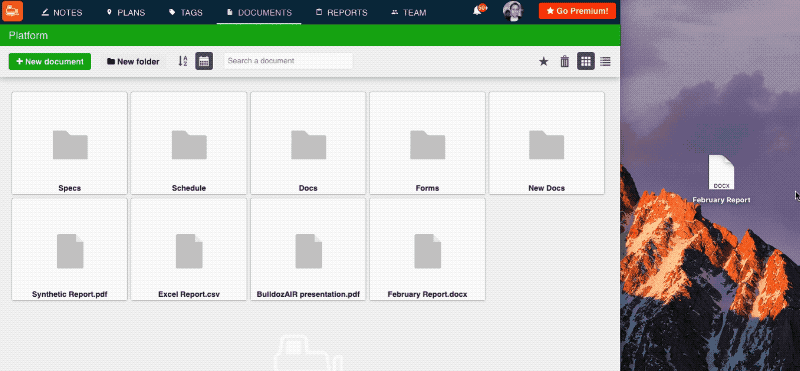 Visualize your notes in one click
Add your files more intuitively
Organize your data faster and easier
We are very happy to finally deliver these new amazing Web App features requested by many of our users and we cannot wait for everyone else to give them a try! We seriously value our users' feedback, so do not hesitate to communicate to us any experience with BulldozAIR. We rely on our users' valuable feedback to continue improving BulldozAIR and offer you the best experience possible.
If you still have not tried BulldozAIR, just click here to enjoy a 30-day free trial.