At BulldozAIR, we keep working very hard to offer you the best experience possible and this is the reason behind today's release, our new amazing Help Center.
This new support platform will enable you to save time by offering you detailed guides on all of BulldozAIR's features and enable you to excel at project management. Increase your productivity by mastering BulldozAIR, and even if you are already a pro, you can send it to people you invited and increase the productivity of your whole team.

Completely renovated Help Center
The Help Center is our new and modernized learning and support platform for all users of BulldozAIR. In here, you will not only to find step-by-step instructions on how to use BulldozAIR on every platform but you will also encounter video tutorials, all the latest updates to the app and all the contact information you might need in case you want to talk to us directly. Just use our awesome search bar powered by Algolia and find exactly what you need in a matter of seconds.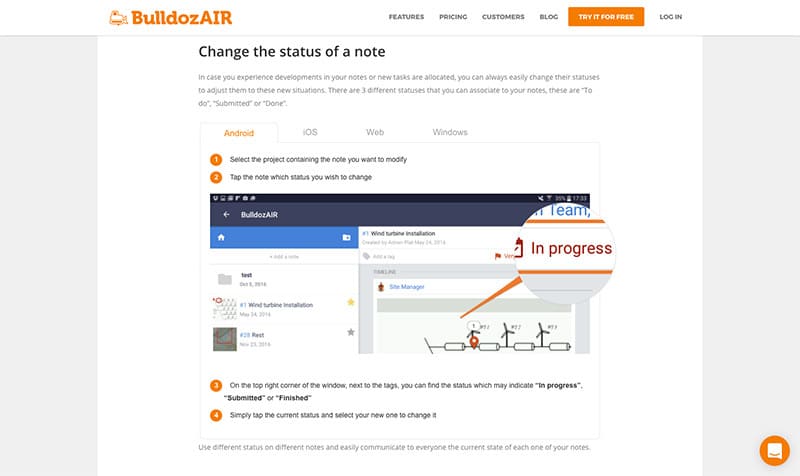 In our newly renovated Help Center, you will find all the information you can required to start using our construction project management solution, as well as information regarding more complex tasks such as report generation or task allocation. Whether you are a beginner or an advanced user, you will be able to learn something new about BulldozAIR. Start exploring our new platform and become a professional at BulldozAIR in only a few minutes. Save time by learning all the tips and tricks regarding our app and attain operational excellence.
As always, we appreciate all feedback regarding BulldozAIR, so do not hesitate to tell us what you think. Your valuable feedback allows BulldozAIR to continue improving and create a better user experience for everyone.
If you still have not tried BulldozAIR, just click here to enjoy a 30-day free trial.